Yoga is a science and one of the original systems used to study the body. For over 5,000 years, it has been successfully referenced by many other disciplines. In ancient times, it was at the heart of a warrior's preparation for the battlefield.
It's difficult to walk into a yoga studio these days especially if you think you're not flexible, and especially if you are a man coming into a female dominated space. Ironically, yoga was developed centuries ago by men. It historically has been practiced primarily by men. In the last century, coming on in the 1960s, a modern form of yoga became feminized.
Why men should practice yoga:
Build strength, endurance, mobility
Increase muscle mass, decrease fat mass
Relieve stress
Improve focus & concentration
Boost sexual performance
Improve athletic performance
You do not have to be flexible to practice yoga. That's like saying you are too hungry to eat or too thirsty to drink water. It's not about having pre-requisite, it's more about having the desire to learn … a beginner's mind … Shoshin.
The nature of the battlefield may have changed over the centuries, but throughout its history, yoga has remained a practical pathway towards improving performance as it enhances the body's natural ability to perform to its highest level.
Yoga is a serious addition to any athletic training and a powerful practice on its own.
Written by: Glenn Burke, yoga instructor at Healthletica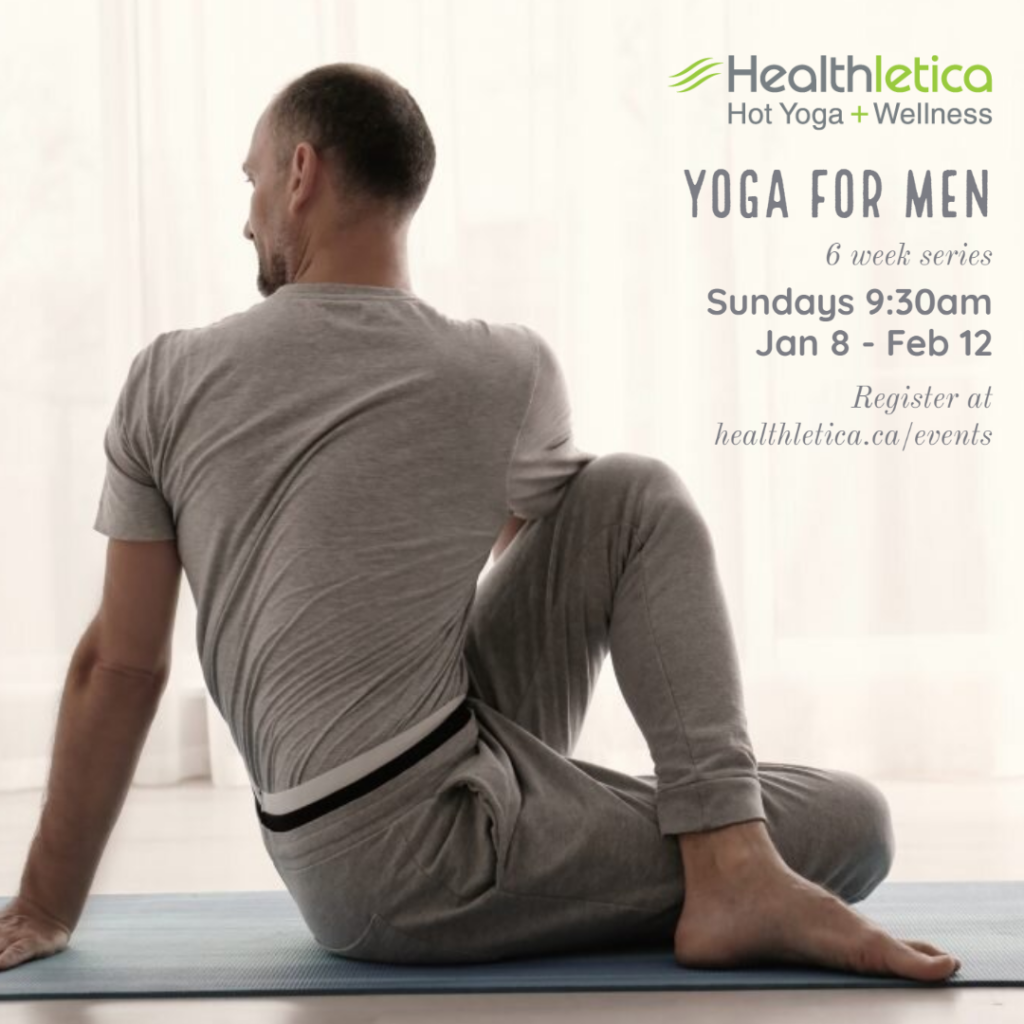 Join us at Healthletica for classes that are specifically designed for inflexible men new to yoga.
This 6-week series will focus on gradually developing flexibility, strength and balance. Poses are demonstrated, broken down and instructed in easy sequential steps to set the foundation of your practice from the ground up.
improve balance
decrease muscular pain and discomfort
feel energized
feel stronger and experience greater agility
have more control and confidence in how you move
manage stress
sleep better
have greater concentration
have performance strategies to survive in modern times
There will be no chanting, cliché yoga music, or pretzel poses. Sweating, grunting and other natural sounds will be allowed.
Dates & Time: Every Sunday from Jan 8 – Feb 12 at 9:30am
Instructor: Glenn Burke
Investment: Early bird – $120 (ends Dec 26, 2022), Regular – $150
10% discount for Paramedics, Police, Fire Department, Medical Doctors (OMA), Nurses (ONA, RNA) & full time students. Contact us.
Also available at Healthletica:
Private yoga sessions for men. Contact us at info@healthletica.ca to learn more!