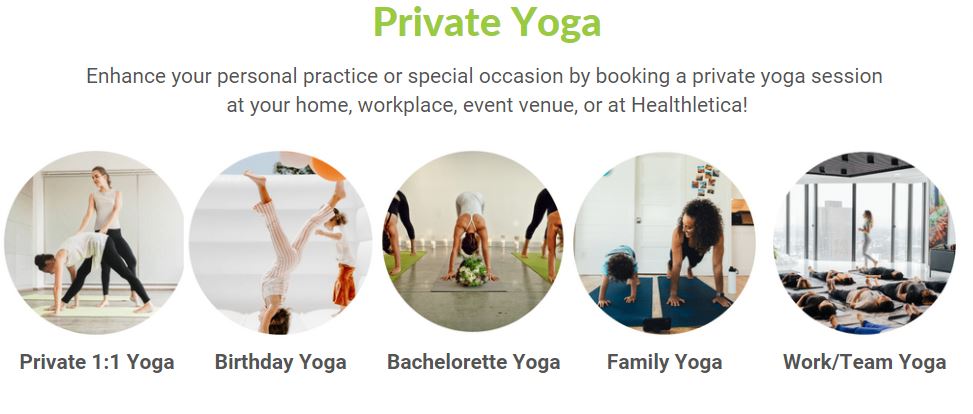 Private & Group Private Yoga at Healthletica
Private 1:1 Yoga
Private yoga is an ideal way to develop a personal practice. Our highly-qualified yoga instructors will create an individualized experience to match your unique needs, goals, and abilities. Perfect for any training age!
Birthday Yoga
Make your party unique and memorable by celebrating your birthday at Healthletica! We host birthday parties for all ages.
Bachelorette Yoga
Looking for a unique experience to turn the party on its head?! Make your celebration even more memorable by starting or ending your bachelorette celebrations with us!
Family Yoga
Share the joy of yoga by booking a private session with your family. Yoga is an excellent way to bond with family members. Our talented instructors will create a personalized experience for you, no matter the age group.
Team/Work Yoga
Support team building, improve employee morale & productivity, and prioritize wellness & self-care, with group private classes. Our instructors will create a unique, one-of-a-kind, customized experience that meets your team's needs.
Private 1:1 yoga sessions/classes are held in our unheated private studio and are 60 minutes in length. Individual sessions and packages are available for private 1:1 yoga. Group private classes are held in our large studio (heated or unheated). Price varies depending on number of people, time in studio and studio temperature. Please contact us at info@healthletica.ca.
Private yoga at your workplace or home
We'll bring yoga to you, so you don't have to spend time travelling to us!
Workplace or home yoga can be done in your personal office, conference room, living room or any other room where there's space to roll out as many yoga mats as needed.
You choose the time that fits you and/or your employees best (early morning yoga, lunch time yoga, after work yoga) and one of our qualified instructors will be there to lead you through an awesome yoga flow.
Contact us at info@healthletica.ca for more information.