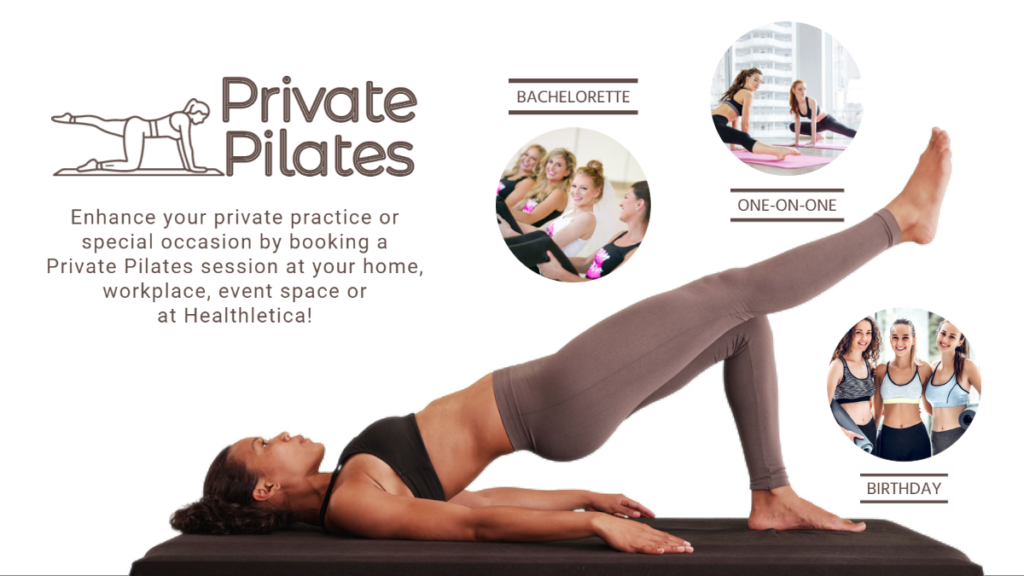 Private Pilates at Healthletica
One-On-One Pilates
Private sessions are an excellent way to learn proper technique, form, and alignment. Regardless of your age, physical fitness, or skill level, we will create a plan perfectly suited to your needs. No experience necessary.
Partner Pilates
Private Pilates provides a great opportunity to bond with someone close to you while getting personalized sessions made to suit both of your levels. A fun and healthy activity to do with a partner!
Work/Team Pilates
Our bodies were not designed to sit for long hours at a desk or in front of a computer screen. To boost workplace morale and promote healthy competition, book a Private Pilates class as a great team building activity!
Bachelorette Pilates
Want to celebrate the bride in a way she'll never forget? Treat her and the bridal party to a fun Private Pilates class! With a class customized to your needs and wants, this is a great activity to incorporate into your bachelorette party.
Birthday Pilates
If you're planning a party and want to do something unique, Private Pilates offers something for everybody at all ages, so you can be sure that all your guests will have an awesome time celebrating.
Family Pilates
Looking for a way to spend some quality time with your family? Bring them to Private Pilates! Our instructors can cater to all levels and ages, providing a safe and welcoming environment for you and your family.
Private 1:1 pilates sessions/classes are held in our unheated private studio and are 60 minutes in length. Individual sessions and packages are available for private 1:1 pilates. Group private classes are held in our large studio (heated or unheated). Price varies depending on number of people, time in studio and studio temperature. Please contact us at info@healthletica.ca.
Private Pilates at your workplace or home
We'll bring pilates to you, so you don't have to spend time travelling to us!
Workplace or home pilates can be done in your personal office, conference room, living room or any other room where there's space to roll out as many mats as needed.
You choose the time that fits you and/or your employees best (early morning, lunch time, after work) and one of our qualified instructors will be there to lead you through an awesome pilates class.
Contact us at info@healthletica.ca for more information.
Interested in trying a pilates class at Healthletica? View our online schedule and book a class!