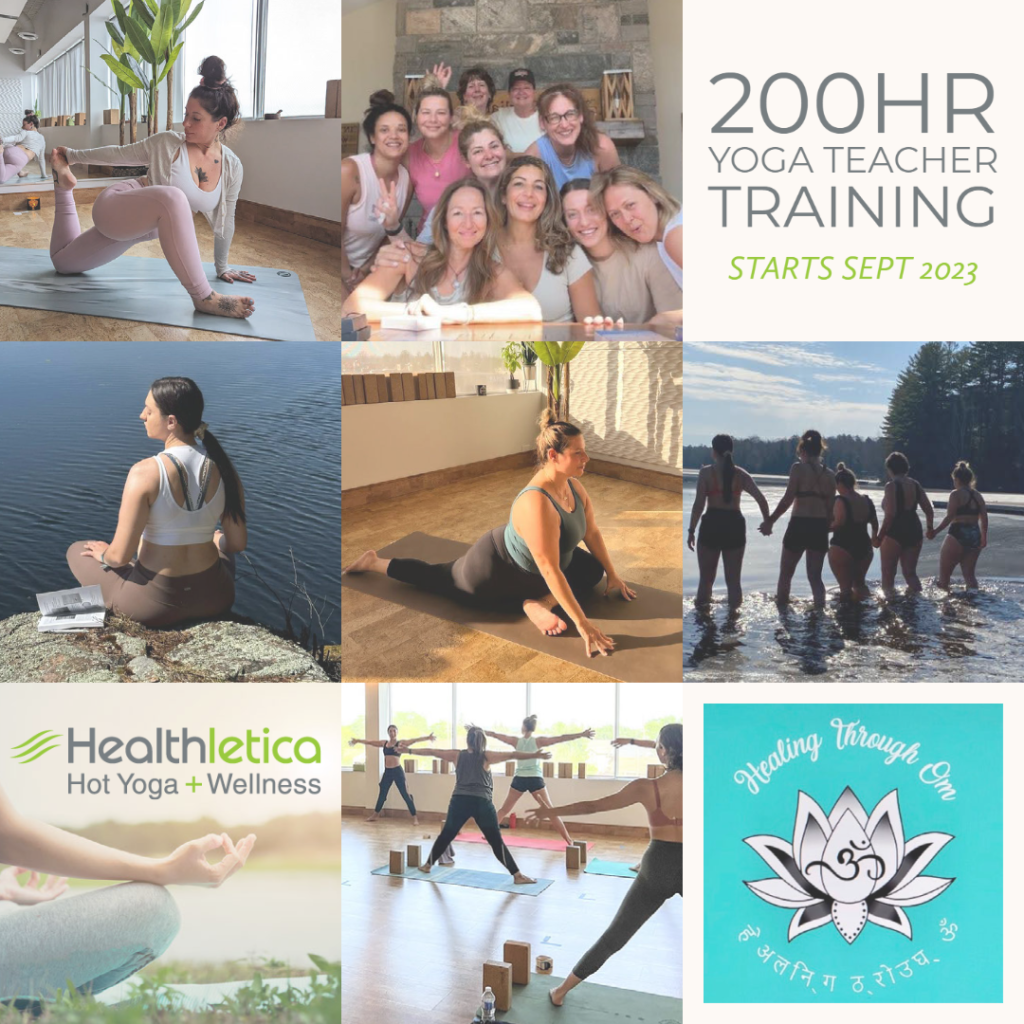 Healing Through Om Presents 200hr Yoga Alliance Approved RYS Yoga Teacher Training
Yoga Teacher Training will begin on Sept 22nd, 2023 and end June 9th , 2024
Training will be held one weekend per month at Healthletica Hot Yoga + Wellness
Classes will run one weekend per month:
Friday evening 6-10pm
Saturday 10:00am-6pm
Sunday 10:00am-6pm
This training will follow traditional Hatha Yoga style and include:
– Philosophy & History of Yoga
– Asanas (postures)
– Pranayamas (breathwork techniques)
– Yoga Anatomy
– Alignments & Adjustments
– Business & Ethics of Yoga
– Pre-Natal, Ayurveda, Meditation & Life Coaching Strategies
– Teaching Practicums
– Community Classes
What's included in tuition?
• Your 200hr Yoga Alliance approved course manual in PDF format
• Handcrafted teachings & guidance by our incredible faculty
• Retreat like setting for our weekends
• Access to our Private WhatsApp YTT Support Group
• Upon graduation, you will receive your 200hr Registered Yoga Alliance accredited designation
• A special rate for a yoga membership at Healthletica (10 months 2 classes/week $450 or 10 months unlimited classes $600)
Investment
Early Bird Pricing– $3888 plus HST if paid in full by Aug 7th , 2023
Regular Pricing– $4111 plus HST August 8th -September18th , 2023
A non-refundable $500 deposit is required to hold your spot.
Payment plan available – 3 equal payments over the course-must be paid in full by March 1st , 2024 (less $500 deposit)
NOTE: If paying by credit card, a 3% fee will apply
Payments can be made via e-transfer to Patti at healingthroughom@gmail.com
Please feel free to email Patti with any questions you may have.
Click here to view the information package for the upcoming YTT program.